BPM Certifications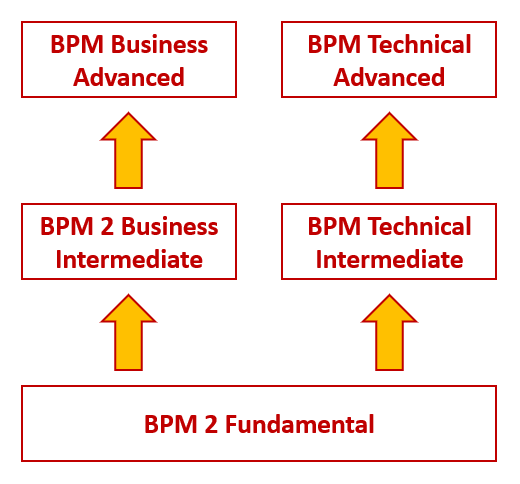 Business Process Modeling and Notation (BPM) certification exams validate an individual's knowledge and skills in the way BPM is used in today's complex distributed business environment. The BPM exams test not only a candidate's knowledge of domain standards (e.g., BPM, Business Motivation Model (BMM) and Business Process Maturity Model (BPMM)), but also the application of standard aspects in the field and of industry best practices over a wide range of business process-related topics.
The BPM exams were designed by the BPM specification authors who know the industry well and understand what a BPM practitioner needs to be successful. Peers and employers alike will feel confident about a certified candidate's ability to participate in or lead real-world initiatives in enterprise BPMN.
There are two BPM exam tracks (business and technical) and five BPM certification exams: Fundamental, Business Intermediate (BUS INT), Technical Intermediate (TECH INT), Business Advanced (BUS ADV) and Technical Advanced (TECH ADV).
To register for a BPM exam create a Pearson VUE account.
The BPM 2 certifications helped me gain a greater knowledge of business process notation, how to accurately model processes and how to deal with various scenarios while modeling
Giedrius Galvydis (Business Analyst)