SYSML Certifications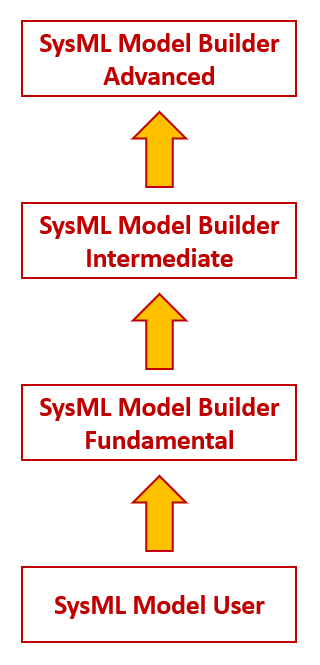 System Modeling Language (SysML) certification exams objectively validate a candidate's knowledge and skills in SysML as applied to model-based systems engineering (MBSE). The examinations were designed by SysML & MBSE experts including many of whom co-authored the SysML specification.
OMG and the International Council on Systems Engineering (INCOSE) worked closely to develop the SysML specification, its application to MBSE and its certification exam which nicely complements INCOSE's Systems Engineering Professional Certification Program. Explore the INCOSE-OMG Mutual Recognition Program for reciprocal discounts between programs and other benefits.
Anyone who uses SysML will benefit from SysML certifications.
There are four SysML certification exams: Model User (MU), Model Builder Fundamental (MBF), Model Builder Intermediate (MBI) and Model Builder Advanced (MBA).
To register for a SysML certification exam create a Pearson VUE account.
---
Anyone who practices Systems Engineering should strive to achieve the SysML certification, especially if you are using SysML to create system models. It will make you much better at your craft and allow you to help those you work with create excellent products for your customers.
Justin Blevins (Chief Systems Engineer, Solutions Architect and Digital Transformation Strategist @ SAIC)
The SysML certification program was a structured way to learn SysML at progressive levels of breadth and depth as well as a way to differentiate myself from others in the labor market. The higher up I would climb the SysML certification ranks, right up to SysML Model Builder Advanced, the more I appreciated SysML's value and the clearer my systems models became.
Terry Fitzgerald (Functional Architect)
By having a team member that understands the full set of SysML constructs, the team was able to confidently go beyond the basic SysML feature set and implement the more advanced modeling techniques to accurately convey important details of the system of interest.
Thomas Gasque (Director of Consulting Services at Delligatti Associates, LLC)
Anybody that gravitates around the development of complex systems will eventually need to learn to speak SysML.
Pierre-Marc Guilbault (Director of Training Services & MBSE Principal Consultant @ Delligatti Associates, LLC)
As I advanced through the SysML exam series, I also had the opportunity to select and excel at the most challenging technical problems my organization is tackling, which has offered opportunities for increased visibility and impact.
James Landreth (Systems Engineer @ Naval Information Warfare Center Atlantic)